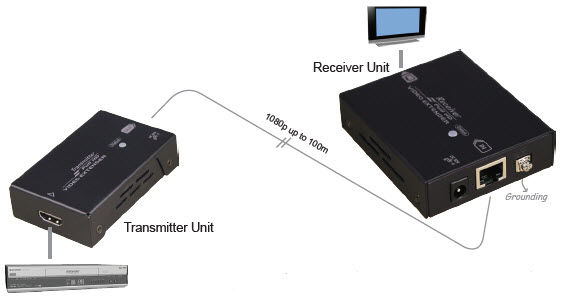 The HEXT-70 (70m) and HEXT-100 (100m) will allow an HDMI video signal, with audio, to be transmitted over a single CATx cable using phantom power on either side. The HDBaseT technology allows the extension of uncompressed Full HD 1080p or 4K2K Ultra HD Video as well as digital surround sound audio over a single CATx cable.
The HEXT unique phantom power feature uses only one AC power adaptor that connects to either the transmitter or the reciever to power the extension solution.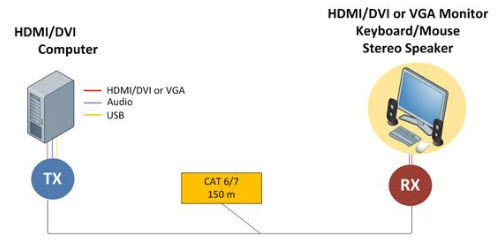 The new UDP1000P Digital KVM Extender, offers up to 1920*1200/1080p digital extension over 150m. It is the perfect solution for extending WUXGA (1920 x 1200) DVI-D with audio and USB keyboard/mouse across single CATx UTP cable. The extender contains a UDP2000T transmitter unit and a UDP2000R Receiver unit. Based on UDPIP algorithm technology, the device achieves razor sharp audio/video quality, real time USB keyboard/mouse performance in noisy environments up to 150 meters.
UDPIP technology allows the UDP2000P to be set up in a uni-cast (point-to-point) or multi-cast (one-to-many) configuration through a 1Gig Ethernet Switch.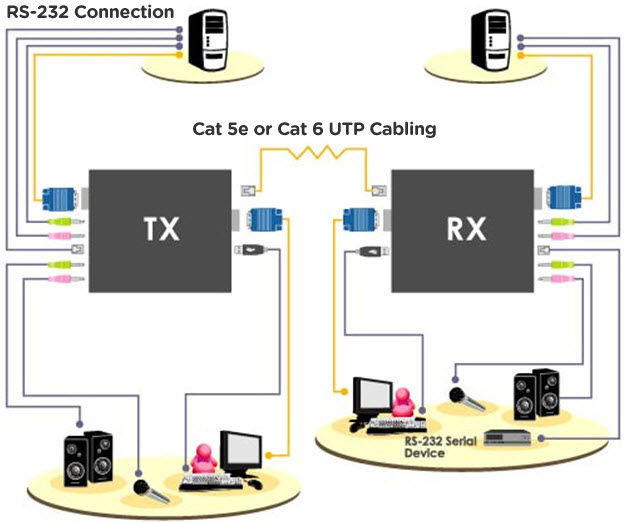 The AN300 CAT5 KVM Extender can extend VGA, USB or PS2 keyboard & mouse, audio & microphone, up to 300mtr away from your computer on a single Cat 5 or Cat 6 UTP cable up to 1920x1200.
The AN300 user station has a 2 port KVM built-in allowing a local PC based system to be attached and accessed. The AN300 transmitter also has a local console allowing a local keyboard and mouse to be attached. The local access on the transmitter has three modes: Full Access, Video Only access, No acess, for security.